When schools could reopen for primary and secondary pupils - latest updates on coronavirus lockdown
Schools will not reopen until March 8 at the earliest, Prime Minister Boris Johnson has announced. Mr Johnson said, in a statement to the Commons, that a review of the roadmap out of lockdown would be published in the week commencing Feb 22, and schools will be scheduled to open from Monday, March 8, should the vaccine roll out continue to progress. Schools were initially slated to reopen after February half-term. Mr Johnson has said opening schools is a "national priority" and the return of students to the classroom will be "the first sign of normality beginning to return." He acknowledged how "frustrating" the news will be for teachers, parents and carers, as well as the mental health impact on pupils stuck at home for such a prolonged period of time. The Government has been under pressure to provide clarity on when schools will fully reopen, following criticism from several backbench Tory MPs, who backed a campaign by the parents' pressure group UsForThem, who are calling for schools to fully reopen. The Prime Minister, however, urged that schools should only reopen when it is safe to do so. All primary and secondary schools have been closed since Jan 5 following the introduction of a third national lockdown in England, and have since offered remote learning for students. Only vulnerable children and children of key workers are currently allowed to attend schools for face-to-face learning. The Education Secretary, Gavin Williamson, has confirmed that schools will receive a two-week notice period before they reopen in order to allow staff to prepare for the return of pupils. In addition to the school closures, GCSE and A-level exams face cancellation for a second year. Replacing traditional exams, GCSE and A-Level students will receive their results from their teacher-assessed grades, and, in some rare cases, some mini external exams, which may have taken place throughout the year.  The Prime Minister pledged on Jan 27 that arrangements would be extended to provide free school meals to eligible children via food parcels and the voucher scheme. Mr Johnson also committed to a "catch up scheme" worth £300m of new money to provide tutoring in schools over the next financial year.  Read more: Tracking UK Covid vaccinations: Are we on target to end lockdown? What are the rules for children of key workers and vulnerable children? The Department for Education (DfE) said children with at least one parent or carer who was a critical worker could attend class - even if parents were working from home. It came after concerns were raised about the risks of transmission of Covid-19 amid reports that more than half of pupils were on site in some primary schools. Those entitled to free school meals will continue to receive them during closures, according to Mr Johnson. Matt Hancock said on Jan 11 that Gavin Williamson, the Education Secretary, would be sending out 500,000 laptops to vulnerable children to ensure they can access remote lessons. The Prime Minister told MPs that 560,000 laptops were distributed in 2020, but this still falls short of the 1.5m pupils that Ofcom estimates are without digital devices in their homes, on which they can learn. Mr Williamson said on Jan 21, that a further 1.3 million electronic devices would be distributed to help with remote learning as schools stayed shut. A DfE spokesman said: "Schools are open for vulnerable children and the children of critical workers. We expect schools to work with families to ensure all critical worker children are given access to a place if this is required. "If critical workers can work from home and look after their children at the same time then they should do so, but otherwise this provision is in place to enable them to provide vital services." The DfE also said that schools were expected to "strongly encourage" vulnerable children to attend class. Vulnerable children could include "pupils who may have difficulty engaging with remote education at home" due to a lack of devices or a quiet space to study, according to the advice. But government guidance says parents who choose to keep children out of class will not be penalised. What do tiers mean for schools? The new lockdown measures mean the entire country will be subject to the same tougher measures, including the closure of all schools. This means the tier system is not currently in place. Mr Johnson said on the announcement of closing schools: "I want to stress that the problem is not that schools are unsafe to children. "The problem is that schools may nonetheless act as vectors for transmission, causing the virus to spread between households." However, the Prime Minister has suggested that England will return to the regional tier system at the end of lockdown, meaning that schools can reopen if tier rules remain the same. However, sources have suggested that tiers could apply to the whole country, rather than geographical area.  "The appetite for regional tiers will only come if you have large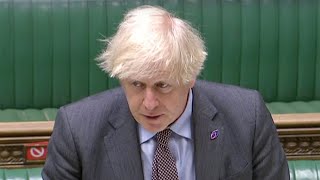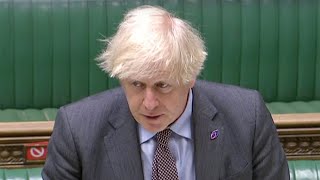 Schools will not reopen until March 8 at the earliest, Prime Minister Boris Johnson has announced.
Mr Johnson said, in a statement to the Commons, that a review of the roadmap out of lockdown would be published in the week commencing Feb 22, and schools will be scheduled to open from Monday, March 8, should the vaccine roll out continue to progress.
Schools were initially slated to reopen after February half-term.
Mr Johnson has said opening schools is a "national priority" and the return of students to the classroom will be "the first sign of normality beginning to return."
He acknowledged how "frustrating" the news will be for teachers, parents and carers, as well as the mental health impact on pupils stuck at home for such a prolonged period of time.
The Government has been under pressure to provide clarity on when schools will fully reopen, following criticism from several backbench Tory MPs, who backed a campaign by the parents' pressure group UsForThem, who are calling for schools to fully reopen.
The Prime Minister, however, urged that schools should only reopen when it is safe to do so.
All primary and secondary schools have been closed since Jan 5 following the introduction of a third national lockdown in England, and have since offered remote learning for students. Only vulnerable children and children of key workers are currently allowed to attend schools for face-to-face learning.
The Education Secretary, Gavin Williamson, has confirmed that schools will receive a two-week notice period before they reopen in order to allow staff to prepare for the return of pupils.
In addition to the school closures, GCSE and A-level exams face cancellation for a second year.
Replacing traditional exams, GCSE and A-Level students will receive their results from their teacher-assessed grades, and, in some rare cases, some mini external exams, which may have taken place throughout the year. 
The Prime Minister pledged on Jan 27 that arrangements would be extended to provide free school meals to eligible children via food parcels and the voucher scheme. Mr Johnson also committed to a "catch up scheme" worth £300m of new money to provide tutoring in schools over the next financial year. 
Read more: Tracking UK Covid vaccinations: Are we on target to end lockdown?
What are the rules for children of key workers and vulnerable children?
The Department for Education (DfE) said children with at least one parent or carer who was a critical worker could attend class - even if parents were working from home.
It came after concerns were raised about the risks of transmission of Covid-19 amid reports that more than half of pupils were on site in some primary schools.
Those entitled to free school meals will continue to receive them during closures, according to Mr Johnson.
Matt Hancock said on Jan 11 that Gavin Williamson, the Education Secretary, would be sending out 500,000 laptops to vulnerable children to ensure they can access remote lessons.
The Prime Minister told MPs that 560,000 laptops were distributed in 2020, but this still falls short of the 1.5m pupils that Ofcom estimates are without digital devices in their homes, on which they can learn.
Mr Williamson said on Jan 21, that a further 1.3 million electronic devices would be distributed to help with remote learning as schools stayed shut.
A DfE spokesman said: "Schools are open for vulnerable children and the children of critical workers. We expect schools to work with families to ensure all critical worker children are given access to a place if this is required.
"If critical workers can work from home and look after their children at the same time then they should do so, but otherwise this provision is in place to enable them to provide vital services."
The DfE also said that schools were expected to "strongly encourage" vulnerable children to attend class.
Vulnerable children could include "pupils who may have difficulty engaging with remote education at home" due to a lack of devices or a quiet space to study, according to the advice.
But government guidance says parents who choose to keep children out of class will not be penalised.
What do tiers mean for schools?
The new lockdown measures mean the entire country will be subject to the same tougher measures, including the closure of all schools. This means the tier system is not currently in place.
Mr Johnson said on the announcement of closing schools: "I want to stress that the problem is not that schools are unsafe to children.
"The problem is that schools may nonetheless act as vectors for transmission, causing the virus to spread between households."
However, the Prime Minister has suggested that England will return to the regional tier system at the end of lockdown, meaning that schools can reopen if tier rules remain the same. However, sources have suggested that tiers could apply to the whole country, rather than geographical area. 
"The appetite for regional tiers will only come if you have large swathes of the country that are significantly lower in case numbers and new variant case numbers and hospitalisations." a source said. 
Officials are believed to be prioritising the reopening of schools before any other relaxation of restrictions, such as the reopening of hospitality and allowing family and friends to meet in outdoor settings. 
Read more on the previous tier system: 
Are there any changes to exams?
Gavin Williamson, the Education Secretary, has indicated that GCSE, A-Level and AS exams may take place after all. 
Mr Williamson addressed this possibility in a letter to the chief exam regulator on Jan 13. This contradicts his announcement on on Jan 6 that exams would not take place this summer. 
Mr Williamson explained that the replacement would be a "form of teacher-assessed grades, with training and support provided to ensure these are awarded fairly and consistently across the country".
However, the Education Secretary stated on Jan 13 that he would "like to explore the possibility of providing externally set tasks or papers".
While teachers' predicted grades will still be used, the exams may be necessary so that teachers can "draw on this resource to support their assessments of students", he said.
Previously, Mr Williamson had told the Commons that, while exams are the fairest way of testing a student's knowledge, the Covid pandemic means it is "not possible to have exams this year" and ministers will "put our trust in teachers rather than algorithms". 
The Department for Education and Ofqual will launch a joint consultation on the plans later this week, and this will run for a fortnight.
How will testing in schools work?
In December, ministers said secondary school pupils and teachers would be able to have daily lateral flow tests for a week if they have come into close contact with someone who has tested positive for the virus.
That would mean children could continue their education at school rather than entire classes or year groups being sent home to self-isolate for 10 days .
But on Jan 20, a  joint statement from  Public Health England (PHE) and NHS Test and Trace said the balance between the risks and benefits of a daily testing programme in schools was now "unclear" and plans were being paused, due to the higher rates of transmission and secondary attack rate observed in the new Covid variant.
Other parts of the testing plan in schools – including two tests a week for teachers and two tests at the start of the school term for pupils – are still due to go ahead when schools reopen, officials said.
The statement from PHE and NHS Test and Trace, published on Jan 20 said: "Schools should continue to test their staff regularly – twice weekly where possible, in line with recommendations for other workforces that need to leave the home to work – and test pupils twice upon return to school, as has been the case since the start of January."
Schools will employ lateral flow tests, which produce results in 30 minutes, and in the case of a positive result a second sample will be sent to a laboratory for confirmation.
Social distancing and 'bubbles'
When schools reopened in September the Government published 25,000 words of guidance explaining how school children and staff should be kept safe.
So-called "bubbles" were created so youngsters could learn and mix with fellow pupils. Large assemblies or collective worship should not include more than one group, and break and lunch times should be staggered to keep bubbles apart. Ensuring these "distinct groups do not mix" makes it quicker and easier to identify contacts if a positive coronavirus case emerges or someone has symptoms.
The bubbles can be larger, increasing to whole "year bubbles", if teaching demands require it. Books, games and shared equipment can be used within that group, but must be cleaned if then used by another bubble.
Older children will be encouraged to avoid close contact with one another. Teachers are not restricted to a single bubble, but are urged to stay at the front of any classroom to reduce contact. In class, pupils must sit spaced out side-by-side and facing forward.
The use of the staff room by teachers is also meant to be "minimised". 
If a pupil or teacher has symptoms or a positive diagnosis
Schools must contact local health protection teams immediately so those in close contact with the child can be traced. Currently, pupils in a bubble, year groups and (very rarely) the entire school could be asked to self-isolate. A mobile testing unit could also be sent to a campus. 
Plans to give secondary school pupils and teachers daily lateral flow tests for a week if they have come into close contact with someone who has tested positive for the virus, have been put on hold.
On Jan 20, a  joint statement from Public Health England (PHE) and NHS Test and Trace said the balance between the risks and benefits of a daily testing programme in schools was now "unclear" and plans were being reviewed.
The decision comes after the new Covid variant was found to have higher rates of transmission and a higher secondary attack rate, increasing "the risk of transmission everywhere, including in school settings".
The statement from PHE and NHS Test and Trace, published on Wednesday morning, said: "In light of this changing situation, we now recommend that the rollout of daily contact testing within schools is paused, other than for schools involved in further evaluation.
"This will enable the further detailed evaluation of changing circumstances including, potentially, lower infection rates and modelling work required to understand the benefits of daily contact testing in the this new phase of the pandemic.
A Government spokesman said: "We are... pausing daily contact testing in all but a small number of secondary schools and colleges, where it will continue alongside detailed evaluation."
If a parent insists a child with symptoms should attend school, the headteacher can refuse to take the pupil if they believe there is a threat to others.
Do children need to wear face coverings during class?
Although guidelines do not recommend the universal use of face coverings, each school can decide whether pupils above Year 7, teachers and visitors should wear them when in corridors and communal areas, where passing briefly is deemed a "low risk". They will not be worn in class. 
A school supply of masks is also recommended for youngsters spotted wearing old or damp ones. Primary school children are not required to wear them.
Hygiene and cleaning
The guidance insists a "robust hand and respiratory hygiene" regime is in place, with children encouraged to clean their hands when they arrive at school, return from breaks, use bathrooms, change classrooms and before eating. Hand sanitiser stations should be commonplace, with possible supervision "given risks around ingestion".
Staff will also supply and promote the use of tissues as part of the "catch it, bin it, kill it" technique to control germs.
"Enhanced cleaning" regimes will be introduced on surfaces which students touch regularly, such as desks, door handles, books and playground apparatus, which are cleaned with bleach and detergents. Toilets should also be cleaned regularly.
Pupils must limit equipment they bring to school, only carrying bags of essential items, "such as lunch boxes, hats, coats, books, stationery and mobile phones".