'Wales lockdown rules': what are the new level 4 restrictions coming into effect on December 28
Wales will go into full lockdown with Tier 4 restrictions for three weeks from December 28, the First Minister has announced.  The Welsh Labour leader said a "sustained rise in coronavirus" meant that the country would have to move into its highest level of restrictions. Some measures will come into force on Christmas Eve with all non-essential retail, including close contact services and all leisure and fitness centres forced to close from the end of the day. The rise in cases forced the Government to limit meetings to only two households over the Christmas period.  All hospitality premises will also close from 6pm on Christmas Day. Mr Drakeford told the Welsh Government briefing the new lockdown would last for an initial three weeks. "I can't offer you a prediction of how long this will last. It will last for three weeks in the first instance," he said. "I said earlier there was small grounds for optimism given what we saw in the firebreak period and we begin to see the impact upon our health service within 10 days on measures being taken. "We will need to track that carefully, see where it gets us and review at the end of the three weeks and see whether it is possible to alleviate any of the measures on a regional or a national basis." Health officials in Wales admitted today, December 17, that 11,000 positive coronavirus tests haven't been included in official figures. It means the number of cases recorded in the past week may be twice as high as previously thought. People chat on the High Street in Merthyr Tydfil, the area with the highest seven-day coronavirus case rate in Wales. Credit: Ben Birchall/PA Details of a four-tier traffic light lockdown system were announced at the Welsh government coronavirus briefing on December 11. The new alert system comes into force after the five-day Christmas easing of Covid restrictions ends on December 27. "The plan sets out four alert levels. We are at alert level three. The traffic light is red. The level of risk is very high," Mark Drakeford said. A full coronavirus control plan was published on December 15. But amid growing pressure from scientists and a surging case rate, Mr Drakeford met virtually with Michael Gove and the leaders of the devolved administrations on December 15 to discuss the viability of the four-nation 'Christmas bubble' plan. Mr Drakeford told the Welsh Parliament "the choice is a grim one", noting "In either direction, harm is done... If we seek to prevent people from meeting over Christmas, a different sort of harm will be done to people's sense of mental health." The country reached 1,900 Covid-related hospital admissions for the first time during the pandemic on December 11. The First Minister expressed growing concern that cases could surpass 2,500 by Christmas Day if the current rate continued.  Until the new alert system begins, a ban on alcohol is in place in hospitality venues such as cafes, restaurants and pubs. These venues must also close at 6pm - but may continue takeaways - and cinemas, skating rinks and museums have shut completely. In a further rule change, people required to self-isolate in Wales can do so for 10 days instead of two weeks from Thursday, December 10. This applies to people who have symptoms, test positive, were in close contact with someone who displays symptoms or tested positive, or people who are returning from a non-exempt country.  The Welsh Government has also asked people to maintain social distancing and to stop booking multiple tables in pubs and then pushing the chairs together. What are the latest restrictions? Until the full lockdown comes into force on December 28, the following rules are in place: People may travel from Wales to tier one and two areas in England and Scotland. Previously, people could only travel out of Wales if it was deemed "essential." Pubs, cafes and restaurants cannot serve alcohol and must close at 6pm thereafter, apart from takeaway services Cinemas, bowling alleys and bingo halls will close, as will amusement arcades, casinos and galleries Non-essential businesses have been open since November 9, but people must work from home "wherever possible" A maximum of two households can form a support bubble and meet indoors or in private gardens Up to four people from separate households can meet up outside the home and in cafes, pubs and restaurants, and bring their children along, but must book ahead and provide identification House parties, events and gatherings are unlawful Groups of up to 15 people can take part in organised activities indoors, while up to 30 people are allowed to take part in activities outdoors Schools are open Wedding and civil partnership ceremonies may take place with social distancing and face coverings, but receptions are limited to 15 people Invite-only funerals may take place and wakes or gatherings are limited to 15 people, excluding staff and children under 11 What about Christmas? Following the recent announcement of a "sus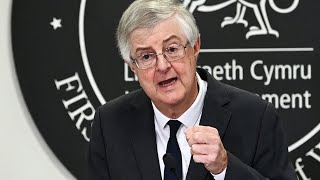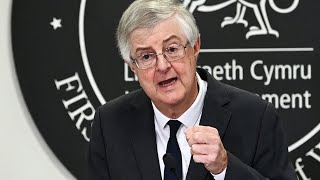 Wales will go into full lockdown with Tier 4 restrictions for three weeks from December 28, the First Minister has announced. 
The Welsh Labour leader said a "sustained rise in coronavirus" meant that the country would have to move into its highest level of restrictions.
Some measures will come into force on Christmas Eve with all non-essential retail, including close contact services and all leisure and fitness centres forced to close from the end of the day.
The rise in cases forced the Government to limit meetings to only two households over the Christmas period. 
All hospitality premises will also close from 6pm on Christmas Day.
Mr Drakeford told the Welsh Government briefing the new lockdown would last for an initial three weeks.
"I can't offer you a prediction of how long this will last. It will last for three weeks in the first instance," he said.
"I said earlier there was small grounds for optimism given what we saw in the firebreak period and we begin to see the impact upon our health service within 10 days on measures being taken.
"We will need to track that carefully, see where it gets us and review at the end of the three weeks and see whether it is possible to alleviate any of the measures on a regional or a national basis."
Health officials in Wales admitted today, December 17, that 11,000 positive coronavirus tests haven't been included in official figures. It means the number of cases recorded in the past week may be twice as high as previously thought.
Details of a four-tier traffic light lockdown system were announced at the Welsh government coronavirus briefing on December 11.
The new alert system comes into force after the five-day Christmas easing of Covid restrictions ends on December 27.
"The plan sets out four alert levels. We are at alert level three. The traffic light is red. The level of risk is very high," Mark Drakeford said. A full coronavirus control plan was published on December 15.
But amid growing pressure from scientists and a surging case rate, Mr Drakeford met virtually with Michael Gove and the leaders of the devolved administrations on December 15 to discuss the viability of the four-nation 'Christmas bubble' plan.
Mr Drakeford told the Welsh Parliament "the choice is a grim one", noting "In either direction, harm is done... If we seek to prevent people from meeting over Christmas, a different sort of harm will be done to people's sense of mental health."
The country reached 1,900 Covid-related hospital admissions for the first time during the pandemic on December 11. The First Minister expressed growing concern that cases could surpass 2,500 by Christmas Day if the current rate continued. 
Until the new alert system begins, a ban on alcohol is in place in hospitality venues such as cafes, restaurants and pubs. These venues must also close at 6pm - but may continue takeaways - and cinemas, skating rinks and museums have shut completely.
In a further rule change, people required to self-isolate in Wales can do so for 10 days instead of two weeks from Thursday, December 10.
This applies to people who have symptoms, test positive, were in close contact with someone who displays symptoms or tested positive, or people who are returning from a non-exempt country. 
The Welsh Government has also asked people to maintain social distancing and to stop booking multiple tables in pubs and then pushing the chairs together.
What are the latest restrictions?
Until the full lockdown comes into force on December 28, the following rules are in place:
People may travel from Wales to tier one and two areas in England and Scotland. Previously, people could only travel out of Wales if it was deemed "essential."
Pubs, cafes and restaurants cannot serve alcohol and must close at 6pm thereafter, apart from takeaway services
Cinemas, bowling alleys and bingo halls will close, as will amusement arcades, casinos and galleries
Non-essential businesses have been open since November 9, but people must work from home "wherever possible"
A maximum of two households can form a support bubble and meet indoors or in private gardens
Up to four people from separate households can meet up outside the home and in cafes, pubs and restaurants, and bring their children along, but must book ahead and provide identification
House parties, events and gatherings are unlawful
Groups of up to 15 people can take part in organised activities indoors, while up to 30 people are allowed to take part in activities outdoors
Schools are open
Wedding and civil partnership ceremonies may take place with social distancing and face coverings, but receptions are limited to 15 people
Invite-only funerals may take place and wakes or gatherings are limited to 15 people, excluding staff and children under 11
What about Christmas?
Following the recent announcement of a "sustained rise in coronavirus"cases in Wales, the Government announced that mixing will be capped to two households. All hospitality premises will also close from 6pm on Christmas Day in Wales. 
This comes after two British medical journals urged the Government to reverse the "rash" five-day Christmas break, or face a surge in hospital admissions, the leaders of the four-nations met on Dec 15 to discuss the Christmas 'bubble' plan.
Ahead of the meeting, Mark Drakeford said the current plans were a "hard-won agreement" and that he will "not lightly put it aside."
This harsh limitation will be made into law, the Welsh Government has confirmed. 
This news comes only hours after the First Minister stated that lowering the number of homes that can form a Christmas bubble from three to two was guidance rather than a requirement.
Prior to the surge in Covid cases, the leaders of all four home nations agreed three households could 'bubble' and mix from December 23 to 27.
In a statement, the Cabinet Office "emphasised that the public will be advised to remain cautious, and that wherever possible people should avoid travelling and minimise social contact".
Will schools close?
All secondary schools and further education colleges in Wales will transition to online classes from Monday December 14, the Education Minister announced on Dec 10.
A number of counties have also indicated primary schools will close earlier, including Cardiff and Swansea.
Mark Drakeford had initially been committed to keeping schools open for as long as possible, urging parents to continue sending their children until the end of term. On Nov 27,  Mr Drakeford said, "It is important for our children not to miss out further."
"Parents will know just how important this period the end of term is, especially in primary schools. Children benefit from being with their peers" he added.
Despite this, one school in Caerphilly, St Martin's School, had already decided to end their term on December 10, after 68% of parents said they intended to keep their children at home for the last week of term.
Several other schools took the decision to close into their own hands, and the Welsh government felt considerable pressure with the infection rate rising in the lead up to the easing of lockdown over Christmas. 
The decision has been criticised by the Children's Commissioner for Wales as disruptive to education.
Universities will continue to offer both in person and online classes, but students must stay home in their university accommodation under the new rules.
They must stay at home, except for limited purposes such as exercise, and must work from home wherever possible.
What about exams?
Wales' GCSE, AS and A-level exams due to take place in summer 2021 have been cancelled, Education Minister Kirsty Williams announced on 10 November.
Mrs Williams said it was impossible to guarantee a level playing field because of the impact of coronavirus, so grades will be based on externally set classroom assessments under teacher supervision.
Pupils will be able to go in to take exams but others will learn from home for an additional week, Mr Drakeford said.
"Other children taking examinations will be able to attend, but all other students will continue their learning from home," he said.
Can I travel to Wales after lockdown?
The law banning non-essential travel to England from Wales lifted at 6pm on Friday 4 December.
Now the ban has ended, people in Wales can travel to tier one and tier two areas in England and Scotland.
Travel to tiers three and four in Scotland and tier three in England is still prohibited, and well as the whole of Northern Ireland.
Previously travel in and out of Wales was only allowed for "essential purposes", such as education, work or caring responsibilities.
However, the Welsh government still advises caution, in order to help stop the spread of the virus.
Mr Drakeford said, "Coronavirus doesn't respect borders – we all have a part to play in keeping Wales and the UK safe. Please think carefully about where you are going and what you are doing. This virus thrives wherever we come together with others."
If you are in tier one or two, the blanket ban on non-essential travel no longer applies, and hotels and self-catering accommodation facilities have reopened once again in lower-risk tiers.
However, you must not travel unless it is essential if you are living in a higher tier.
Will businesses receive support?
A "Restrictions Business Fund" worth £160m will be on offer which will enable around 60,000 hospitality, tourism and leisure businesses which pay non-domestic rates (NDR) to access grants of up to £5,000.
A total of £180 million will also be available from the Economic Resilience Fund. Small and medium sized businesses could receive up to £100,000 in grants and larger  businesses could receive up to £150,000.