Thursday evening news briefing: Our Covid vaccine works, insists Boris Johnson
If you want to receive twice-daily briefings like this by email, sign up to the Front Page newsletter here. For two-minute audio updates, try The Briefing - on podcasts, smart speakers and WhatsApp. PM backs AstraZeneca vaccine despite German ruling Boris Johnson has said he is not concerned by Germany ruling that the AstraZeneca vaccine should only be recommended for under 65s, as he argued the evidence shows it "provides a good immune response across all age groups". The Prime Minister's response on a visit to Scotland comes as the EU's vaccine crisis deepens, with Germany facing shortages that will last into April, according to the country's health minister. Contrast that with Britain's progress with our rollout - search here. It has emerged AstraZeneca's vaccine production site in Belgium was raided yesterday at the request of the European Commission. EU officials suspect the company may have sold reserved EU vaccine stock to non-EU countries, including Britain. Yet Downing Street has not ruled out sending vaccine stocks to Europe to help with supply issues. Here is how the European press has reacted to the EU's vaccine spat with Britain. Meanwhile, Nicola Sturgeon has refused to follow the UK Government's demand not to publish vaccine supply figures. The First Minister's defiance comes as the Prime Minister paid a visit to Scotland, where he distanced himself from comments made by Commons Leader, Jacob Rees-Mogg, who called Ms Sturgeon "moanalot" for criticising Mr Johnson's trip as non-essential. Tom Harris argues that of course the trip is essential - because Mr Johnson is Scotland's prime minister. Fresh 'underage girls' claims in Maxwell court papers Ghislaine Maxwell allegedly ordered a "room full of underage girls" to dance and touch each other sexually in front of the convicted paedophile Jeffery Epstein, according to newly unsealed court filings. Ms Maxwell has also been accused of stealing a 15-year-old victim's passport after she refused to have sex with the billionaire financier. Ms Maxwell, a former British socialite, denies helping her ex-boyfriend Epstein to recruit and groom girls for sex. Hundreds of documents relating to Ms Maxwell's second deposition have been publicly released in the US, as well as never before seen pictures of Virginia Giuffre, taken when she was young. Royal documentary banned by the Queen is leaked It was a bold move designed to revive public interest in the Royal Family. But it turned out that seeing Prince Charles chopping lettuce for a family barbeque while the Duke of Edinburgh struggled to brown the sausages also destroyed their mystique. In 1972, the Queen ordered the BBC's infamous fly on the wall documentary to be locked away and it has never been seen in full since - until now. Click here to see images from the 90-minute programme, Royal Family, uploaded onto YouTube earlier this month - and in a review Chris Bennion explains why the documentary humanises the Windsors far better than The Crown. At a glance: Latest coronavirus headlines Also in the news: Today's other headlines Corbyn assault | A man who spat in Jeremy Corbyn's face during a row in the street before threatening the former Labour leader's wife has avoided jail and been given a community sentence. Read on for details. Around the world: Why China won't cooperate with US Winter is well under way in Washington and Beijing, where subzero temperatures match bilateral relations that are far from thawing. A week into the Biden presidency, the US and China have already indicated where each side expects to begin in terms of engagement. Perhaps unsurprisingly neither nation agrees on exactly where to start. Sophia Yan analyses why China will not cooperate with Mr Biden until the US backs down on the South China Sea and human rights. Thursday interview Giorgio Armani: 'Throwaway fashion is the worst concept' Armani Privé spring/summer 2021 As the designer shows his latest couture collection, he tells Bethan Holt the pandemic has reinforced his vision for functional, beautiful clothing Read the full interview Comment and analysis You've got this: Getting you through lockdown Separation anxiety | 'When my marriage broke down, I was told I'd look sad, mad, bad' Boomer boxes | How golden oldies are leading an unlikely radio revolution Jennifer Aniston | Her modern take on 'The Rachel' - and how to do it in lockdown Business and money briefing Retail traders vs the hedge funds | The City watchdog said it is "closely monitoring" trading on UK markets and warned investors not to break trading rules after Reddit-fuelled day traders sparked chaos on Wall Street. Some stockbrokers have resorted to blocking and restricting trading in GameStop shares as organised DIY investors continue to drive its surge. Read on for the latest and here is a guide to what is happening - and what it means for share trading. Ben Wright warns retail traders are playing a dangerous game - though many do not seem t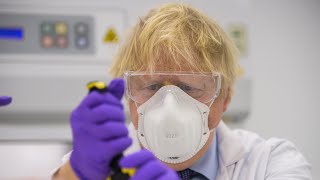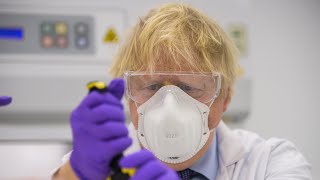 PM backs AstraZeneca vaccine despite German ruling
Boris Johnson has said he is not concerned by Germany ruling that the AstraZeneca vaccine should only be recommended for under 65s, as he argued the evidence shows it "provides a good immune response across all age groups". The Prime Minister's response on a visit to Scotland comes as the EU's vaccine crisis deepens, with Germany facing shortages that will last into April, according to the country's health minister. Contrast that with Britain's progress with our rollout - search here. It has emerged AstraZeneca's vaccine production site in Belgium was raided yesterday at the request of the European Commission. EU officials suspect the company may have sold reserved EU vaccine stock to non-EU countries, including Britain. Yet Downing Street has not ruled out sending vaccine stocks to Europe to help with supply issues. Here is how the European press has reacted to the EU's vaccine spat with Britain.
Meanwhile, Nicola Sturgeon has refused to follow the UK Government's demand not to publish vaccine supply figures. The First Minister's defiance comes as the Prime Minister paid a visit to Scotland, where he distanced himself from comments made by Commons Leader, Jacob Rees-Mogg, who called Ms Sturgeon "moanalot" for criticising Mr Johnson's trip as non-essential. Tom Harris argues that of course the trip is essential - because Mr Johnson is Scotland's prime minister.
Fresh 'underage girls' claims in Maxwell court papers
Ghislaine Maxwell allegedly ordered a "room full of underage girls" to dance and touch each other sexually in front of the convicted paedophile Jeffery Epstein, according to newly unsealed court filings. Ms Maxwell has also been accused of stealing a 15-year-old victim's passport after she refused to have sex with the billionaire financier. Ms Maxwell, a former British socialite, denies helping her ex-boyfriend Epstein to recruit and groom girls for sex. Hundreds of documents relating to Ms Maxwell's second deposition have been publicly released in the US, as well as never before seen pictures of Virginia Giuffre, taken when she was young.
Royal documentary banned by the Queen is leaked
It was a bold move designed to revive public interest in the Royal Family. But it turned out that seeing Prince Charles chopping lettuce for a family barbeque while the Duke of Edinburgh struggled to brown the sausages also destroyed their mystique. In 1972, the Queen ordered the BBC's infamous fly on the wall documentary to be locked away and it has never been seen in full since - until now. Click here to see images from the 90-minute programme, Royal Family, uploaded onto YouTube earlier this month - and in a review Chris Bennion explains why the documentary humanises the Windsors far better than The Crown.
At a glance: Latest coronavirus headlines
Also in the news: Today's other headlines
Corbyn assault | A man who spat in Jeremy Corbyn's face during a row in the street before threatening the former Labour leader's wife has avoided jail and been given a community sentence. Read on for details.
Around the world: Why China won't cooperate with US
Winter is well under way in Washington and Beijing, where subzero temperatures match bilateral relations that are far from thawing. A week into the Biden presidency, the US and China have already indicated where each side expects to begin in terms of engagement. Perhaps unsurprisingly neither nation agrees on exactly where to start. Sophia Yan analyses why China will not cooperate with Mr Biden until the US backs down on the South China Sea and human rights.
Thursday interview
Giorgio Armani: 'Throwaway fashion is the worst concept'
As the designer shows his latest couture collection, he tells Bethan Holt the pandemic has reinforced his vision for functional, beautiful clothing
Comment and analysis
You've got this: Getting you through lockdown
Separation anxiety | 'When my marriage broke down, I was told I'd look sad, mad, bad'
Boomer boxes | How golden oldies are leading an unlikely radio revolution
Jennifer Aniston | Her modern take on 'The Rachel' - and how to do it in lockdown
Business and money briefing
Retail traders vs the hedge funds | The City watchdog said it is "closely monitoring" trading on UK markets and warned investors not to break trading rules after Reddit-fuelled day traders sparked chaos on Wall Street. Some stockbrokers have resorted to blocking and restricting trading in GameStop shares as organised DIY investors continue to drive its surge. Read on for the latest and here is a guide to what is happening - and what it means for share trading. Ben Wright warns retail traders are playing a dangerous game - though many do not seem to care.
Sport briefing
Thomas Tuchel's Chelsea unveiling | Thomas Tuchel's first press conference as Chelsea manager illustrated the German has no illusions about what is expected of him. Read what he would constitute success.
Tonight's TV  
Back, Channel 4, 10pm | So far, there's no sign that Simon Blackwell's (The Thick of It) comedy of embarrassment is suffering from second album syndrome. Read on for more.
And finally... for this evening's downtime
The Battle of the Sexes | The world stopped to see Billie Jean King take on Bobby Riggs in 1973, in what became a seminal moment for women's sport, tennis and equality. Rob Bagchi tells how King's victory tends to exonerate her opponent for the ugly chauvinism that preceded it, and obscure how much was at stake in the match.