Storm Ciara: Britain braced for further weather chaos, after motorist is killed by falling tree
The Met Office is issuing further weather warnings tonight that could bring fresh travel chaos, after Storm Ciara claimed its first victim. A Mercedes driver - a 58-year-old man - died when his car was struck by a falling tree crashing onto his car roof on Sunday afternoon, it emerged on Monday. As of 4pm, the Met Office was forecasting further misery - here's how it could affect you: Scotland and Northern Ireland: Heavy snow and strong winds will combine to disrupt travel, especially over higher routes, for the rest of the day and all of Tuesday.  England: In the North West, as far south as Manchester, heavy snow showers and icy surfaces could lead to travel disruption, particularly over higher routes, throughout Monday and Tuesday.  1:26AM Queensferry Crossing closed over falling ice Falling ice and snow has forced the closure of the Queensferry Crossing, with eight cars damaged in the severe weather. Operators Amey said the key route would be shut until further notice as a safety precaution due to ice falling from the cables. Motorists travelling southbound were advised to divert via the A985 to the Kincardine Bridge and the M9, and the reverse for northbound traffic. The bridge is expected to remain closed throughout the Tuesday morning rush hour. ❗QUEENSFERRY CROSSING⛔CLOSED Southbound⛔The Queensferry Crossing is closed S/B due to adverse weather issuesThe situation will be monitored overnight and reevaluated however it is currently highly likely to remain closed through morning peak@TheForthBridges #PlanAhead pic.twitter.com/173sXxafTQ — Traffic Scotland (@trafficscotland) February 10, 2020 Mark Arndt from Amey said: "We are aware of eight vehicles that suffered damage due to falling ice and snow, however there have been no injuries reported. "We appreciate this closure will create disruption for drivers, however, we are asking drivers to use an alternative mode or route for their safety due to the continued weather conditions. "We will assess conditions and open the bridge at the earliest opportunity once it is safe to do so." Met Office yellow warnings for wind, snow and ice remain in place through to Wednesday. 12:37AM 70 flood warnings in place There were 70 flood warnings in place across the country on Monday as of 10.15pm. More than 20,000 homes were left without power overnight as Storm Ciara whipped across the country. Western Power Distribution - which covers the Midlands, the South West and South Wales - said around 4,000 homes were without power by Monday at 4pm, while UK Power Networks said it had 3,950 properties across the east of England without a supply. 9:18PM Flood defences 'not strong enough' Concerns have been raised about the adequacy of the UK's flood defence planning as several experts warned that the changing climate meant a radical rethink was required. Innes Thomson, chief executive of the Association of Drainage Authorities, told The Telegraph the Government could not "continue throwing concrete and endless amounts of money" at defences such a high walls, saying: "It won't stop the flooding." The Government has announced emergency measures to allow councils to claim back money spent supporting flood-hit areas. Theresa Villiers, the Environment Secretary, said "at least 25,000 properties and businesses" in flood-hit areas were "successfully protected" at the weekend, adding: "We know more needs to be done and we are determined to deliver."     5:50PM Storm Ciara opens up dangerous sinkhole in Essex - video Video footage has emerged of the sinkhole that opened during the early hours of Monday, with the motorist of the car making a lucky escape.  5:45PM Over 500 homes believe to be flooded, with number expected to rise More than 500 properties are believed to have been been flooded during the storm, according to the environment secretary, Theresa Villiers, with the number expected to rise further. Villiers said between 40 and 80cm of rain had fallen within 24 hours across much of northern England, with the highest levels recorded in Cumbria with 179.8cm. Making a statement to MPs, she told the Commons: "Particularly severe impacts have been felt in Yorkshire along the River Calder, in Lancashire along the River Ribble, in Great Manchester along the Irwell and in Appleby on the Eden."   Ms Villiers added: "The current estimate is that over 500 properties have been flooded but this number is expected to increase as further information is collected.   "The latest number of properties confirmed to have been flooded are 40 in Cumbria, 100 in Lancashire, 150 in Greater Manchester and 260 in Yorkshire." 3:02PM Minister: Flood victims can apply for funding The Government has activated its emergency Bellwin scheme, that allows communities to recoup costs of the impact of damages to their homes caused by Storm Ciara. Homeowners in West Yorkshire, Cumbria and Lancashire could apply for he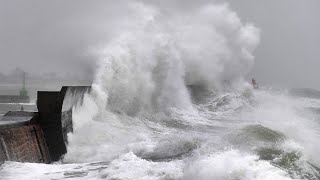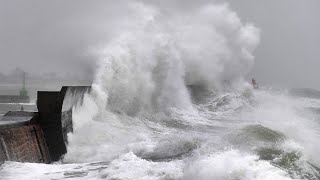 The Met Office is issuing further weather warnings tonight that could bring fresh travel chaos, after Storm Ciara claimed its first victim.
A Mercedes driver - a 58-year-old man - died when his car was struck by a falling tree crashing onto his car roof on Sunday afternoon, it emerged on Monday.
As of 4pm, the Met Office was forecasting further misery - here's how it could affect you:
Scotland and Northern Ireland: Heavy snow and strong winds will combine to disrupt travel, especially over higher routes, for the rest of the day and all of Tuesday. 
England: In the North West, as far south as Manchester, heavy snow showers and icy surfaces could lead to travel disruption, particularly over higher routes, throughout Monday and Tuesday. 
Queensferry Crossing closed over falling ice
Falling ice and snow has forced the closure of the Queensferry Crossing, with eight cars damaged in the severe weather.
Operators Amey said the key route would be shut until further notice as a safety precaution due to ice falling from the cables.
Motorists travelling southbound were advised to divert via the A985 to the Kincardine Bridge and the M9, and the reverse for northbound traffic.
The bridge is expected to remain closed throughout the Tuesday morning rush hour.
Mark Arndt from Amey said: "We are aware of eight vehicles that suffered damage due to falling ice and snow, however there have been no injuries reported.
"We appreciate this closure will create disruption for drivers, however, we are asking drivers to use an alternative mode or route for their safety due to the continued weather conditions.
"We will assess conditions and open the bridge at the earliest opportunity once it is safe to do so."
Met Office yellow warnings for wind, snow and ice remain in place through to Wednesday.