President's International Baccalaureate Scholarships at Northern Arizona University, USA
If you want to get the best education with affordable fees, then apply for the President's International Baccalaureate (IB) Scholarships at Northern Arizona University for the academic year 2021-2022. This education award aims to provide financial support for those candidates who are going to apply for the diploma programme in the USA. Advertisements Review Award Application Process Clarity of Information Summary Nice chance for international students in the USA. */ ]]> User Review 0 (0 votes) */ ]]> Northern Arizona University is a public research university in Northern Arizona that offers over 170 bachelors, masters, and doctoral degree programs. Each year, their department's faculty and students put on over 300 concerts, lectures, and exhibitions to share their scholarly and artistic achievements. Why study at Northern Arizona University? NAU offers courses that equip students with the skills and knowledge they need to succeed on the international stage. A lively social scene with a variety of events awaits candidates. Application Deadline: July 1, 2021 Brief Description University or Organization: Northern Arizona University Department: NA Course Level: Diploma Award: $5,000 Number of Awards: NA Access Mode: Online Nationality: International The award can be taken in the USA Eligibility       Eligible Countries: Applications are accepted from around the world. Eligible Course or Subjects: Diploma programme in any subject offered by the university. Eligibility Criteria: To be eligible, the applicants must meet all the following/given criteria: Must earn at least 24 points, subject to certain minimum levels of performance across the whole program and to pleasing participation in the creativity, action, and service requirements. Must maintain a 2.75 cumulative GPA.  How to Apply How to Apply: In order to apply for this opportunity, aspirants have to take admission in the diploma programme at the university. Supporting Documents: Applicants must submit a CV, certified copies of qualifications, a transcript of results, and copies of any other documentation. Admission Requirements: Students are required to submit previous year degrees or certificates with an excellent academic result. Language Requirement: Applicants must be known with English language proficiency. Benefits Northern Arizona University will provide an award of amount $5,000 to the eligible international and domestic students. [embedded content]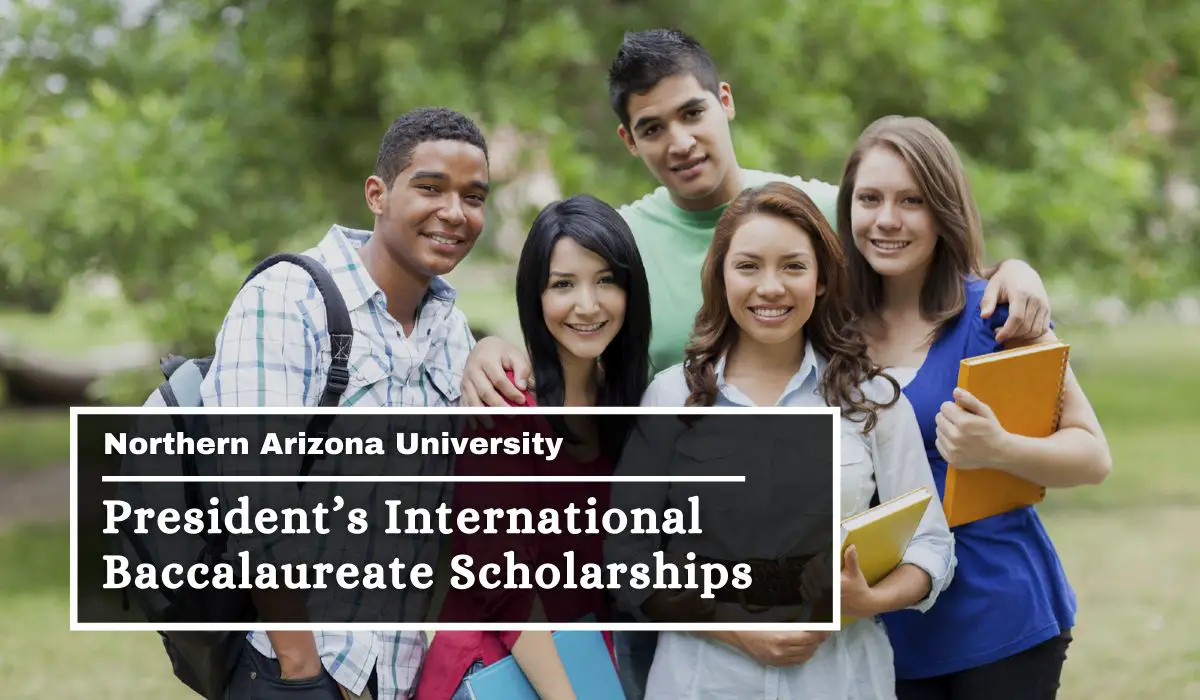 If you want to get the best education with affordable fees, then apply for the President's International Baccalaureate (IB) Scholarships at Northern Arizona University for the academic year 2021-2022.
This education award aims to provide financial support for those candidates who are going to apply for the diploma programme in the USA.
Review
Award

Application Process

Clarity of Information
Summary
Nice chance for international students in the USA.
Northern Arizona University is a public research university in Northern Arizona that offers over 170 bachelors, masters, and doctoral degree programs. Each year, their department's faculty and students put on over 300 concerts, lectures, and exhibitions to share their scholarly and artistic achievements.
Why study at Northern Arizona University? NAU offers courses that equip students with the skills and knowledge they need to succeed on the international stage. A lively social scene with a variety of events awaits candidates.
Application Deadline: July 1, 2021
Brief Description
University or Organization: Northern Arizona University
Department: NA
Course Level: Diploma
Award: $5,000
Number of Awards: NA
Access Mode: Online
Nationality: International
The award can be taken in the USA
Eligibility      
Eligible Countries: Applications are accepted from around the world.
Eligible Course or Subjects: Diploma programme in any subject offered by the university.
Eligibility Criteria: To be eligible, the applicants must meet all the following/given criteria:
Must earn at least 24 points, subject to certain minimum levels of performance across the whole program and to pleasing participation in the creativity, action, and service requirements.
Must maintain a 2.75 cumulative GPA.
 How to Apply
How to Apply: In order to apply for this opportunity, aspirants have to take admission in the diploma programme at the university.
Supporting Documents: Applicants must submit a CV, certified copies of qualifications, a transcript of results, and copies of any other documentation.
Admission Requirements: Students are required to submit previous year degrees or certificates with an excellent academic result.
Language Requirement: Applicants must be known with English language proficiency.
Benefits
Northern Arizona University will provide an award of amount $5,000 to the eligible international and domestic students.