Meghan and Harry's Oprah interview: live updates as the Duke and Duchess of Sussex reveal all
The blockbuster television interview between the Duke and Duchess of Sussex and Oprah Winfrey has begun.  The first part of the interview features the Duchess sitting down with Oprah alone and discussing her early "courtship" with her husband. Prince Harry will join for the second half.  Racism, rifts, and a falling-out with The Firm - nothing will be off -limits, with the Royal family braced for a slew of damaging revelations.  The interview, being broadcast in the US on CBS, will be shown in the UK at 9pm on Monday on ITV.  But we'll be bringing you the latest on it here now in our live blog.  Auto update On Off 1:19AM 'Kate made me cry' Contrary to reports that the Duchess of Sussex made the Duchess of Cambridge cry at her wedding rehearsal, Meghan says the "reverse" was true.  1:16AM Harry and Meghan married days before their wedding The Duchess revealed that she married Prince Harry days before their Royal wedding at St George's Chapel in Windsor.  1:15AM Duchess invokes Diana The Duchess opens the interview by invoking the infamous interview done by Diana, Princess of Wales in 1995.  The interview with the BBC revealed intimate details of Diana's marriage to Prince Charles and was watched by millions. It was also said to have infuriated the Queen. The Duchess said she entered the Royal family "naively", but had since become aware of Diana's "famous" tell-all interview. 1:03AM 'No subject is off limits' And we've begun. Oprah has opened the interview by reminding viewers that no subject is off the table. The Duchess of Sussex has not been paid for her participation.  The Duchess of Sussex said she knows the gender of her baby and it will be revealed later on during the interview, which was filmed at a friend's house. 1:01AM Oprah's most memorable and revealing interviews To give you a taste of what is to come, The Telegraph looked back over the course of Oprah Winfrey's 25-year television career and the interviews that made her TV royalty.  From Lance Armstrong's guilt to Rihanna's forgiveness, for some of the most memorable moments in modern pop culture, you need look no further than Oprah's sofa. Have a look back at her greatest TV moments here.  12:58AM Palace 'bullying' investigation will only feature Duchess Allegations of bullying against the Duke and Duchess of Sussex have surfaced in recent days ahead of their tell-all interview.  The Telegraph's Victoria Ward has this report revealing that the Buckingham Palace investigation into bullying will be confined solely to allegations concerning the Duchess - and no other members of the Royal family. The review will be deliberately limited in scope, focusing on a specific time period, and will invite only members of staff from the time to give evidence, The Telegraph understands. Read the full story here. 12:44AM Princes hope to reunite this summer The Duke of Sussex is determined to stand shoulder to shoulder with his brother at the unveiling of a statue of their mother Diana, Princess of Wales, whatever the fallout from his interview with Oprah Winfrey.  Victoria Ward has spoken to a royal source who believes tonight offers the Sussexes' a chance to "draw a line under that chapter of their lives".  The source, who is close to Prince Harry, insisted that whatever had been said and done, he desperately hoped to attend the event at Kensington Palace to mark his mother's 60th birthday on July 1.  Read the full story here. 12:36AM 'Today's the day' The Queen of chat show has been counting down the hours until the interview airs on her social media accounts.  12:34AM Meghan's sorority watching along Students from Northwestern University in Chicago, Meghan's alma mater, will be eagerly watching tonight's interview.  Members of the Duchess' former sorority, Kappa Kappa Gamma, say they are marking the occasion with British-themed food and memorabilia from the royal wedding.  Despite coronavirus restrictions, Northwestern graduate Alexis Barber, 22, told the New York Times she will be taking to Instagram to share her obsession with the Duchess with friends.  "I just need to know what's going on," she told the newspaper. 12:15AM PR savvy or a faux pas? Oprah Winfrey is the queen of the chat show, but is she the right person to interview Harry and Meghan? The Telegraph's Robin Aitken has his reservations about the move.  He writes:  "I can see the temptation – it gives them a huge audience and an opportunity to enlist the sympathy of the credulous – but it comes at a cost. The thing which Harry and Meghan stand to lose is their authenticity. How can we take them seriously when so much about their lives now seems so phony and fake? For one thing the idea that this is any kind of normal journalistic interview is wrong. Oprah Winfrey is no even-handed inquisitor. She has built a reputation and media empire by monetising flattery -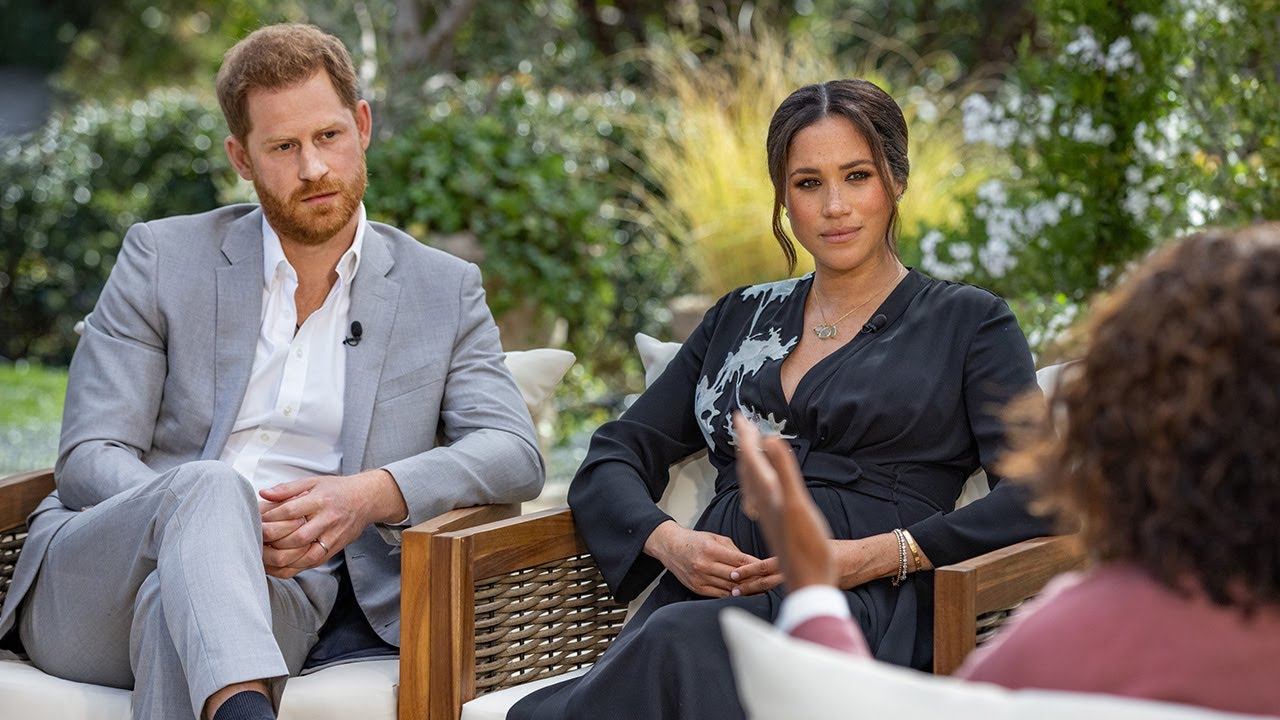 The blockbuster television interview between the Duke and Duchess of Sussex and Oprah Winfrey has begun. 
The first part of the interview features the Duchess sitting down with Oprah alone and discussing her early "courtship" with her husband. Prince Harry will join for the second half. 
Racism, rifts, and a falling-out with The Firm - nothing will be off -limits, with the Royal family braced for a slew of damaging revelations. 
The interview, being broadcast in the US on CBS, will be shown in the UK at 9pm on Monday on ITV.  But we'll be bringing you the latest on it here now in our live blog. 
Duchess invokes Diana
The Duchess opens the interview by invoking the infamous interview done by Diana, Princess of Wales in 1995. 
The interview with the BBC revealed intimate details of Diana's marriage to Prince Charles and was watched by millions. It was also said to have infuriated the Queen.
The Duchess said she entered the Royal family "naively", but had since become aware of Diana's "famous" tell-all interview.