José Ramon Pérez international awards at SUNY Oswego, USA
Intending to encourage and support the education of outstanding students in Australia, the State University of New York at Oswego is providing the José Ramon Pérez International Scholarships for the academic session 2021/2022. Candidates who want to study the undergraduate degree coursework at the State University of New York at Oswego can apply for this wonderful funding programme. Advertisements Review Award Application Process Clarity of Information Summary Hurry Up! Please apply for this funding opportunity as soon as possible. */ ]]> User Review 0 (0 votes) */ ]]> Founded in 1861, SUNY Oswego is known as the Oswego Primary Teachers Training School by Edward Austin Sheldon, who introduced a revolutionary teaching methodology Oswego Movement in American education. It has two campuses: Oswego's historic lakeside campus and Syracuse, New York Metro Hub. Why study at the State University of New York at Oswego? The University offers international students a wide variety of degree programmes and also provides them with the best study facilities to build a bright future. Application Deadline: January 15, 2021 Brief Description University or Organization: State University of New York at Oswego Department: N/A Course Level: Undergraduate Award: $5,000 Number of Awards: N/A Access Mode: Online Nationality: International The award can be taken in the USA Eligibility       Eligible Countries: All nationalities. Eligible Course or Subjects: Undergraduate degree programme in any subject offered by the University Eligibility Criteria: To be eligible, the applicants must meet all the following/given criteria: Must be international students to get enrolled at the University. Must apply for this funding programme at the University to get considered. How to Apply How to Apply: For grabbing this opportunity, applicants have to take admission in a degree program at the University. After taking confirmation, you can apply for the award. Supporting Documents: Candidates must submit degree certificates, academic transcripts, and CV with your application. Admission Requirements: For taking admission, students must have to check the entry requirements of their chosen program. Language Requirement: If your first language is not English, you have to provide the standardised test scores of TOEFL or IELTS. Benefits The State University of New York at Oswego will provide an award of $5,000 for four years pf the programme at the University. [embedded content]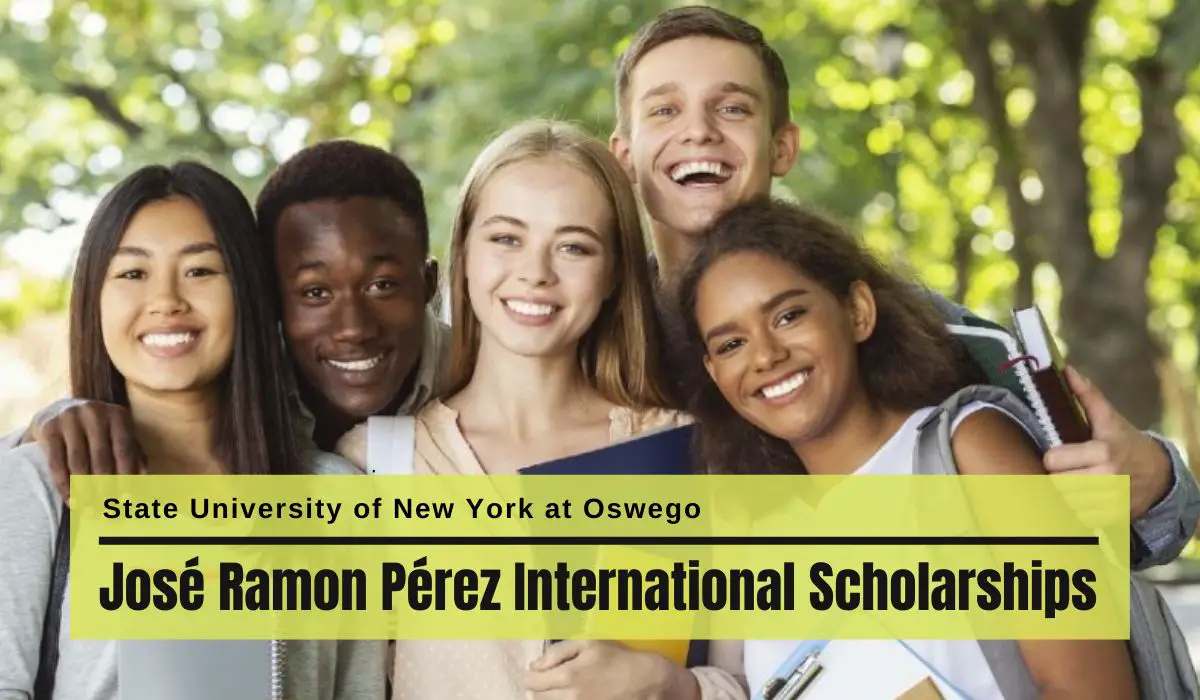 Intending to encourage and support the education of outstanding students in Australia, the State University of New York at Oswego is providing the José Ramon Pérez International Scholarships for the academic session 2021/2022.
Candidates who want to study the undergraduate degree coursework at the State University of New York at Oswego can apply for this wonderful funding programme.
Review
Award

Application Process

Clarity of Information
Summary
Hurry Up! Please apply for this funding opportunity as soon as possible.
Founded in 1861, SUNY Oswego is known as the Oswego Primary Teachers Training School by Edward Austin Sheldon, who introduced a revolutionary teaching methodology Oswego Movement in American education. It has two campuses: Oswego's historic lakeside campus and Syracuse, New York Metro Hub.
Why study at the State University of New York at Oswego? The University offers international students a wide variety of degree programmes and also provides them with the best study facilities to build a bright future.
Application Deadline: January 15, 2021
Brief Description
University or Organization: State University of New York at Oswego
Department: N/A
Course Level: Undergraduate
Award: $5,000
Number of Awards: N/A
Access Mode: Online
Nationality: International
The award can be taken in the USA
Eligibility      
Eligible Countries: All nationalities.
Eligible Course or Subjects: Undergraduate degree programme in any subject offered by the University
Eligibility Criteria: To be eligible, the applicants must meet all the following/given criteria:
Must be international students to get enrolled at the University.
Must apply for this funding programme at the University to get considered.
How to Apply
How to Apply: For grabbing this opportunity, applicants have to take admission in a degree program at the University. After taking confirmation, you can apply for the award.
Supporting Documents: Candidates must submit degree certificates, academic transcripts, and CV with your application.
Admission Requirements: For taking admission, students must have to check the entry requirements of their chosen program.
Language Requirement: If your first language is not English, you have to provide the standardised test scores of TOEFL or IELTS.
Benefits
The State University of New York at Oswego will provide an award of $5,000 for four years pf the programme at the University.