Department of Agriculture, Forestry & Fisheries (DAFF) Internship Programme 2021 for young South Africans (R60,792.00 per annum stipend)
Application Deadline: March 12th 2021 Applications for the DAFF 2021 Internship Programme intake is now open and will close on 12 March 2021. No late applications will be considered. The Department of Environment, Forestry and Fisheries (DEFF) is an equal opportunity, affirmative action employer. It is our intention to promote representivity (race, gender and disability). The persons with disabilities will receive preference for the internship programme, and therefore are encouraged to apply. The departmental recruitment and selection processes apply. Interns will receive a stipend / allowance of R60,792.00 per annum. Purpose and Objectives Purpose The department offers internships to previously disadvantage South African students; the purpose of the programmes is to establish an effective system for continuous development of skilled and experienced candidates for future appointments and mobility in both the public and private sector. Overview The Department of Environment, Forestry and Fisheries' programme seeks to achieve the following objectives: Enhance youth development and employabilityDevelop a culture of high quality lifelong learning within Department of Environment, Forestry and FisheriesFoster skills transfer (through coaching) from Department of Environment, Forestry and Fisheries' permanent staff to interns Applicants must: Be unemployed youth (SA citizens),Previously have not participated in any internship programme in the public service,Have completed at least a three (3) years qualification from a recognised higher education institution. Applications and enquiries Applications must be: Submitted on a completed new Z83 form. Please indicate "2021 Internship Programme" for position you are applying for; also indicate the "ref number" (as stated in the advertisement).Accompanied by a recent CV and certified copies of ID and qualifications (national diploma; degree; post graduate qualifications and recent academic transcripts / records) forwarded to the following addresses. Pretoria: By hand The Department of Environment, Forestry and FisheriesEnvironment House473 Steve Biko Street,C/o Steve Biko and Soutpansberg RoadArcadiaPretoria By post: The Director-GeneralIntenship ProgrammePrivate Bag X447Pretoria0001 For enquiries contact: • Mr Mbongeni Mncube Tel: 012 399 8691• Mr Dinilesizwe April Tel: 012 399 9415 Cape Town By hand The Department of Environment, Forestry and Fisheries63 Strand StreetNedbank Building13th FloorCape Town By post: The Director-GeneralIntenship ProgrammePrivate Bag X 4390Cape Town8001 For enquiries contact: • Mr Mpho Beta Tel: 021 402 3368• Ms Sarah Mathunyane Tel: 021 814 8084• Ms Neliswa Magwala Tel: 021 814 8089 Closing date: 12 March 2021 Note: Correspondence will only be limited to successful candidates. If you have not heard from us within 3 months after the closing date, please accept that your application was unsuccessful » Download the advert [PDF – 288.93 kb]» Download the Z83 application form [PDF – 1.7 mb] For More Information: Visit the Official Webpage of the Department of Agriculture, Forestry & Fisheries (DAFF) Internship 2021 Let's block ads! (Why?)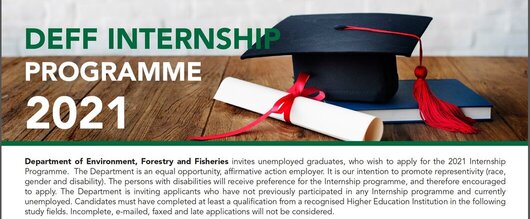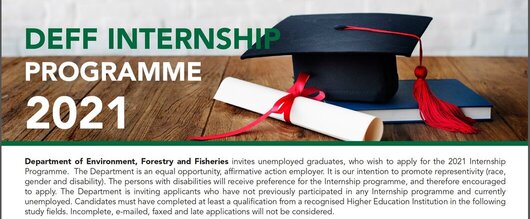 Application Deadline: March 12th 2021
Applications for the DAFF 2021 Internship Programme intake is now open and will close on 12 March 2021. No late applications will be considered. The Department of Environment, Forestry and Fisheries (DEFF) is an equal opportunity, affirmative action employer. It is our intention to promote representivity (race, gender and disability). The persons with disabilities will receive preference for the internship programme, and therefore are encouraged to apply. The departmental recruitment and selection processes apply. Interns will receive a stipend / allowance of R60,792.00 per annum.
Purpose and Objectives

Purpose
The department offers internships to previously disadvantage South African students; the purpose of the programmes is to establish an effective system for continuous development of skilled and experienced candidates for future appointments and mobility in both the public and private sector.
Overview
The Department of Environment, Forestry and Fisheries' programme seeks to achieve the following objectives:

Enhance youth development and employability
Develop a culture of high quality lifelong learning within Department of Environment, Forestry and Fisheries
Foster skills transfer (through coaching) from Department of Environment, Forestry and Fisheries' permanent staff to interns
Applicants must:
Be unemployed youth (SA citizens),
Previously have not participated in any internship programme in the public service,
Have completed at least a three (3) years qualification from a recognised higher education institution.
Applications and enquiries
Applications must be:
Submitted on a completed new Z83 form. Please indicate "2021 Internship Programme" for position you are applying for; also indicate the "ref number" (as stated in the advertisement).
Accompanied by a recent CV and certified copies of ID and qualifications (national diploma; degree; post graduate qualifications and recent academic transcripts / records) forwarded to the following addresses.

Pretoria:
By hand
The Department of Environment, Forestry and Fisheries
Environment House
473 Steve Biko Street,
C/o Steve Biko and Soutpansberg Road
Arcadia
Pretoria
By post:
The Director-General
Intenship Programme
Private Bag X447
Pretoria
0001
For enquiries contact:
• Mr Mbongeni Mncube
Tel: 012 399 8691
• Mr Dinilesizwe April
Tel: 012 399 9415
Cape Town
By hand
The Department of Environment, Forestry and Fisheries
63 Strand Street
Nedbank Building
13th Floor
Cape Town

By post:
The Director-General
Intenship Programme
Private Bag X 4390
Cape Town
8001

For enquiries contact:
• Mr Mpho Beta
Tel: 021 402 3368
• Ms Sarah Mathunyane
Tel: 021 814 8084
• Ms Neliswa Magwala
Tel: 021 814 8089
Closing date: 12 March 2021
Note:
Correspondence will only be limited to successful candidates. If you have not heard from us within 3 months after the closing date, please accept that your application was unsuccessful
» Download the advert [PDF – 288.93 kb]
» Download the Z83 application form [PDF – 1.7 mb]
For More Information:
Visit the Official Webpage of the Department of Agriculture, Forestry & Fisheries (DAFF) Internship 2021