CRUK CI University of Cambridge PhD International Studentships in UK, 2020
Applicants are invited to apply for the Cancer Research UK Cambridge Institute (CRUK CI) PhD Studentships at the University of Cambridge for the session 2020/2021. The programme is open to international students. The purpose of the funding programme is to encourage highly motivated PhD students who have experience in genomics methods. Advertisements Review Award Application Process Clarity of Information Summary Students will receive full funding and a stipend of £19,000 for the academic session 2020/2021. */ ]]> User Review 0 (0 votes) */ ]]> Founded in 1209, the University of Cambridge is a second-oldest university in the English-speaking world and the world's fourth-oldest surviving university. It is a well-known and reputed centre for education and research that attracts each year thousands of learners from around the world. Why study at the University of Cambridge? At this university, students will get a high-quality education, learning, and research at the highest international levels of excellence. By joining this university, students will be able to discuss real-world case studies with experts in any field. Application Deadline: November 15, 2020 Brief Description University or Organization: University of Cambridge Department: N/A Course Level: PhD Award: Full Funding+ Stipend of £19,000 Access Mode: Online Number of Awards: Not Known Nationality: International The award can be taken in the UK Eligibility Eligible Countries: All nationalities. Acceptable Course or Subjects: PhD degree programme in High-Order Chromatin Structure and Oncogenic Stress. Admissible Criteria: To be eligible, applicants must have to meet the following eligibility criteria: Recent graduates or final year undergraduates who hold or expect to gain a first/upper second class degree (or equivalent) in a relevant subject from any recognized university worldwide. How to Apply How to Apply: To be considered for the opportunity s, applicants first have to take admission in a PhD degree programme at the University of Cambridge. After that, all applications need to be made using the University Applicant Portal. Supporting Documents: Must submit two academic references, transcript, CV/resume, and statement of interest (2500 characters). Admission Requirements: For taking admission, students must have to check the entry requirements of their chosen program. Language Requirement: If English is not your first language, you should provide evidence of English language ability: IELTS, TOEFL, or other acceptable proof. Please see the English Language Requirements section for more details. Benefits Eligible students will get full funding for University and College fees and a stipend of £19,000 per annum for the academic session 2020/2021. [embedded content]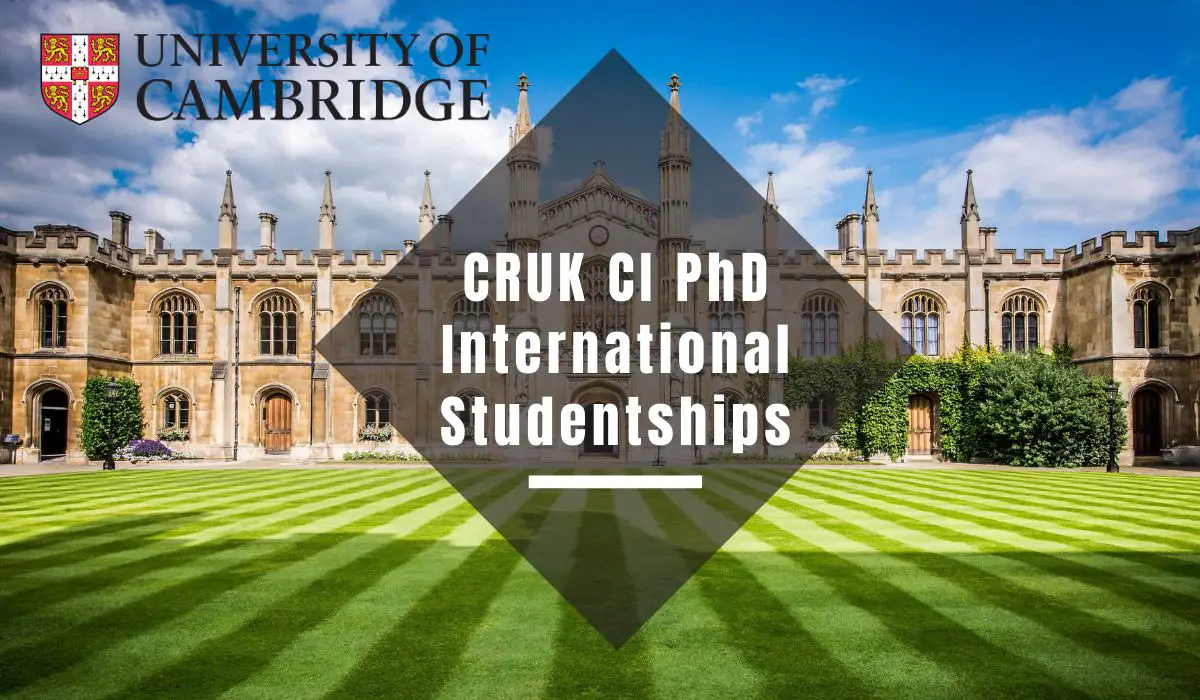 Applicants are invited to apply for the Cancer Research UK Cambridge Institute (CRUK CI) PhD Studentships at the University of Cambridge for the session 2020/2021. The programme is open to international students.
The purpose of the funding programme is to encourage highly motivated PhD students who have experience in genomics methods.
Review
Award

Application Process

Clarity of Information
Summary
Students will receive full funding and a stipend of £19,000 for the academic session 2020/2021.
Founded in 1209, the University of Cambridge is a second-oldest university in the English-speaking world and the world's fourth-oldest surviving university. It is a well-known and reputed centre for education and research that attracts each year thousands of learners from around the world.
Why study at the University of Cambridge? At this university, students will get a high-quality education, learning, and research at the highest international levels of excellence. By joining this university, students will be able to discuss real-world case studies with experts in any field.
Application Deadline: November 15, 2020
Brief Description
University or Organization: University of Cambridge
Department: N/A
Course Level: PhD
Award: Full Funding+ Stipend of £19,000
Access Mode: Online
Number of Awards: Not Known
Nationality: International
The award can be taken in the UK
Eligibility
Eligible Countries: All nationalities.
Acceptable Course or Subjects: PhD degree programme in High-Order Chromatin Structure and Oncogenic Stress.
Admissible Criteria: To be eligible, applicants must have to meet the following eligibility criteria:
Recent graduates or final year undergraduates who hold or expect to gain a first/upper second class degree (or equivalent) in a relevant subject from any recognized university worldwide.
How to Apply
How to Apply: To be considered for the opportunity s, applicants first have to take admission in a PhD degree programme at the University of Cambridge. After that, all applications need to be made using the University Applicant Portal.
Supporting Documents: Must submit two academic references, transcript, CV/resume, and statement of interest (2500 characters).
Admission Requirements: For taking admission, students must have to check the entry requirements of their chosen program.
Language Requirement: If English is not your first language, you should provide evidence of English language ability: IELTS, TOEFL, or other acceptable proof. Please see the English Language Requirements section for more details.
Benefits
Eligible students will get full funding for University and College fees and a stipend of £19,000 per annum for the academic session 2020/2021.