CMU Redekop School of Business Merit Awards for International Students in Canada
If you want to start your educational journey in Canada with some funding help, then you can join the Redekop School of Business Merit Awards at Canadian Mennonite University. The purpose of the funding program is to encourage worldwide students who wish to enter a Bachelor's degree program at CMU's Redekop School of Business in Canada. Advertisements Review Award Application Process Clarity of Information Summary Beneficial offer for international students to get $1,500 per year up to four years. */ ]]> User Review 0 (0 votes) */ ]]> Founded in 1999, Canadian Mennonite University is a private Mennonite university based in Winnipeg, Manitoba, Canada. CMU offers four bachelor's degrees and graduate degrees with majors in 19 different subjects and pre-professional studies in around 26 subjects. Why would you like to join the Canadian Mennonite University? At CMU, when you prepare to enter a professional setting, you will be encouraged to incorporate your values and studies. Their mission is to help you gain management and leadership skills and enhance your vision of entrepreneurship. Application Deadline: February 28, 2021 Brief Description University or Organization: Canadian Mennonite University Department: N/A Course Level: Bachelor Award: $6,000; $1,500 per year up to four years Access Mode: Online Number of Awards: 3 Nationality: International The award can be taken in Canada Eligibility Eligible Countries: All nationalities. Acceptable Course or Subjects: Undergraduate degree in Business program Admissible Criteria: To be eligible, Applicants must meet CMU's regular admission requirements, except that one of the grade 12 subjects they must present is either Applied Mathematics 40S or Pre-Calculus Mathematics 40S (or equivalents). How to Apply How to Apply: To be considered for the opportunity s, applicants must take admission in an undergraduate degree programme at the Canadian Mennonite University. After being registered, candidates must complete and submit an application form with the following documents. Supporting Documents: Must submit a letter of nomination from a science instructor and write a 2-3 paragraph essay (roughly 250 words) answering a question provided by CMU's science faculty. Admission Requirements: For taking admission, students with a minimum grade of "B" in each and an overall minimum GPA of 2.5 over 30 credit hours, are eligible to apply for admission to the Bachelor of Business Administration, Co-op Option. Language Requirement: If your education has not been conducted in the English language, you will be expected to demonstrate evidence of an adequate level of English proficiency. Please see the English Language Requirements section for more details. Benefits Canadian Mennonite University provides each year three RSB Merit Awards (maximum value $6,000; $1,500 per year up to four years) are awarded to students entering the Redekop School of Business. [embedded content]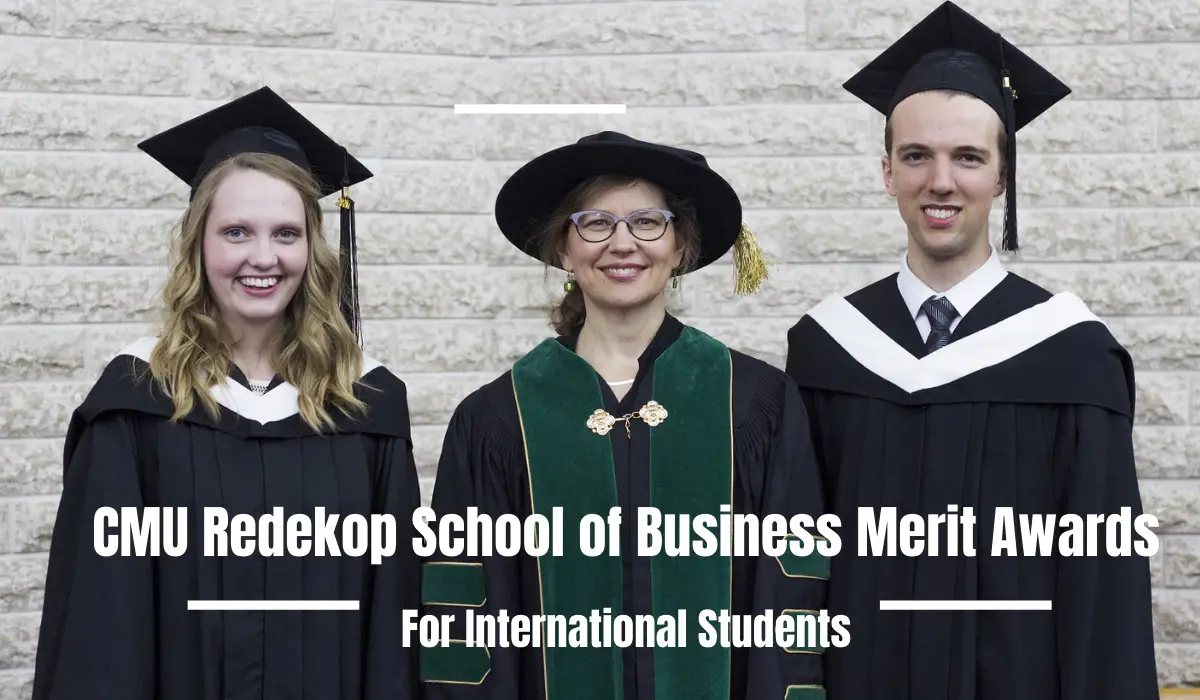 If you want to start your educational journey in Canada with some funding help, then you can join the Redekop School of Business Merit Awards at Canadian Mennonite University.
The purpose of the funding program is to encourage worldwide students who wish to enter a Bachelor's degree program at CMU's Redekop School of Business in Canada.
Review
Award

Application Process

Clarity of Information
Summary
Beneficial offer for international students to get $1,500 per year up to four years.
Founded in 1999, Canadian Mennonite University is a private Mennonite university based in Winnipeg, Manitoba, Canada. CMU offers four bachelor's degrees and graduate degrees with majors in 19 different subjects and pre-professional studies in around 26 subjects.
Why would you like to join the Canadian Mennonite University? At CMU, when you prepare to enter a professional setting, you will be encouraged to incorporate your values and studies. Their mission is to help you gain management and leadership skills and enhance your vision of entrepreneurship.
Application Deadline: February 28, 2021
Brief Description
University or Organization: Canadian Mennonite University
Department: N/A
Course Level: Bachelor
Award: $6,000; $1,500 per year up to four years
Access Mode: Online
Number of Awards: 3
Nationality: International
The award can be taken in Canada
Eligibility
Eligible Countries: All nationalities.
Acceptable Course or Subjects: Undergraduate degree in Business program
Admissible Criteria: To be eligible, Applicants must meet CMU's regular admission requirements, except that one of the grade 12 subjects they must present is either Applied Mathematics 40S or Pre-Calculus Mathematics 40S (or equivalents).
How to Apply
How to Apply: To be considered for the opportunity s, applicants must take admission in an undergraduate degree programme at the Canadian Mennonite University. After being registered, candidates must complete and submit an application form with the following documents.
Supporting Documents: Must submit a letter of nomination from a science instructor and write a 2-3 paragraph essay (roughly 250 words) answering a question provided by CMU's science faculty.
Admission Requirements: For taking admission, students with a minimum grade of "B" in each and an overall minimum GPA of 2.5 over 30 credit hours, are eligible to apply for admission to the Bachelor of Business Administration, Co-op Option.
Language Requirement: If your education has not been conducted in the English language, you will be expected to demonstrate evidence of an adequate level of English proficiency. Please see the English Language Requirements section for more details.
Benefits
Canadian Mennonite University provides each year three RSB Merit Awards (maximum value $6,000; $1,500 per year up to four years) are awarded to students entering the Redekop School of Business.